- a Rotary initiative...
1985:  350,000 cases - today 99.99% eradicated
Today, about 30 cases of wild poliovirus in just two countries – Afghanistan and Pakistan.

We are this close...
When Rotary began its eradication work in 1985 polio infected more than 350,000 children annually. Thanks to Rotary and its partners, the world has seen polio cases plummet by more than 99 percent, preventing five million instances of child paralysis and 250,000 deaths. If we succeed in eradicating it completely the world would enjoy savings as high as $US50 billion by 2035.
After more than 27 years of hard work, Rotary and its partners are on the brink of eradicating this tenacious disease, but a strong push is needed now to root it out once and for all. The polio cases represented by that final 1 percent are the most difficult and expensive to prevent. Challenges include geographic isolation, worker fatigue, armed conflict, and cultural barriers.
That is why rotarians continue to raise funds. For as little as US$0.60, a child can be protected against the virus for life.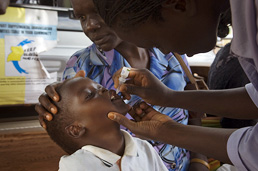 Since we started the fight against polio, we've reduced the number of polio cases by 99.9 percent and reached more than 2.5 billion children with the vaccine. There are fewer polio cases today than ever before, but we will not stop until we reach zero.
PolioPlus website      view VIDEO below