About Us
Rotary is where neighbours, friends and problem-solvers share ideas and take action to create lasting change.
Rotary International Theme for 2019 -2020
You will find Rotary Club of Ku-ring-gai members very welcoming and friendly. Members subject to their available time, enjoy participating in club projects which 'Make a Difference' to our community,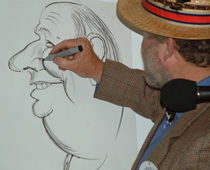 A fun night with Migal JoffeWe meet on Monday nights for a meal at Killara Golf Club, usually with an interesting speaker.
Strong friendships develop between our members, gained through:
- attendance on Monday nights as frequently as you can
- networking
- involvement with other members in a project of your choosing, or
- attending our social events including restaurant and movie evenings
Participation is very rewarding!
Come and visit us, or have a chat first: Contact us